Rast27

-

3-12-2017 at 08:13 PM



Hello There all oud fans!

Im Izzik from israel i have and a uniqe and rare antique oud for sale
of the Armeinan maker from Istanbul Mihran Keresteciyan that used to be Manol usta Assistent.

The Oud was made in 1918 and it is FULL ORIGINAL with no restorations or any parts that replaced ! the Oud is in a very good condition and ready for play (For now it is set with Arabic tune Strings) the sound is very strong and clear and has a perfect balance

It will come with a proffesional Gig Bag and 2 Mizrab made by me



Here's a video you can see and hear it :

https://www.youtube.com/watch?v=QedUfYosqxA

Of course for more information ill be Active at the mail adress :

11Goldstrings@gmail.com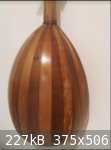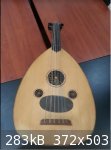 ---
Jody Stecher

-

3-13-2017 at 04:50 PM



I agree. This is a special oud. Good player too.
---
newlife_ks

-

3-14-2017 at 08:00 AM



That's a nice piece of music in D-Minor. Alfonsina y el mar. Does anybody have a score for it?
---
Mehran

-

3-14-2017 at 01:23 PM



An oud made by my namesake! Tempting.

Lovely performance by the way.
---
newlife_ks

-

3-17-2017 at 08:14 AM



Does anybody know the ensemble's name?
---
MattOud

-

3-17-2017 at 03:15 PM



Hi newlife,
According to the other videos, it looks like they go by the name Meyan Ensemble.
See here: https://www.youtube.com/watch?v=VSHka_fzgKE


It all sounds lovely!
---
newlife_ks

-

3-20-2017 at 04:27 AM



Hello MattOud!

The only person I recognize among the Meyan Ensemble is the flute player, all the others are different persons. So I'm not sure if you're right. If it was the Meyan Ensemble I believe they would have mentioned that in the track's name like in the others.
---
MattOud

-

3-20-2017 at 06:36 AM



Hi Newlife,
I agree with you. It looks like only the Kanun player is from Meyan Ensemble, as a guest player.

This group is only listed by their names it seems:
Kanun - Sarel HaCohen
Egyptian Kawala - Hanani Zait
Cello - Atar Dayan
Oud - Izzik Gan

I Hope they make more songs and post them. The Oud is beautiful sounding.


---
newlife_ks

-

3-20-2017 at 09:43 AM



Yes, the oud sounds really fantastic to me. I wonder who built it. Maybe the narrow striped inlays on the fingerboard give a clue to somebody here on the forum.

But of course it's not just the instrument but the player too as well as the other members. All of them play very fine and seem professionals to me. Apart from the oud I like the flute and it's player best.
---
newlife_ks

-

3-20-2017 at 10:00 AM



P.S. Maybe I should payed attention to the closing credits in the video.

As well the ensemble as the players are named.

KUSHTAH

Izzik Gan - Oud
Sarel Hacohen - Kanun
Atar Dayan - Cello
Hanani Zait - Kawala (Ney)

Another ney duet video with Izzik Gan here:

https://www.youtube.com/watch?v=DGzGQd_eha4
---
alchemy

-

3-23-2017 at 12:43 PM



I didn't expect to find a version like that! Very nice.

It is music from my country. The type of composition is called Zamba, slow songs full of poetry, from the folkloric repertoire of Argentinian music.

Here is a traditional version by very renowned singer Mercedes Sosa: https://www.youtube.com/watch?v=eU1Hpc_iqL8

I attach the lyrics and music score for newlife_ks and whoever wants it =)

Attachment: alfonsina-y-el-mar.pdf (53kB)
This file has been downloaded 111 times
---
newlife_ks

-

3-23-2017 at 01:37 PM



Hello alchemy!

I was deeply touched by the performance of the Kushtah Ensemble, and since nobody seemed to have musical sheets I deceided to transcribe it as good as I could. You can find a pdf here in D-Minor:
Alfonsina Y El Mar
Thanks for for sheet of course!
---