Chris-Stephens

-

8-27-2018 at 06:57 PM



Hey guys, my Oud got beat up really bad this weekend, as you'll see in the picture. How can I repair the face without much overhaul and low budget? There was a puncture that I tried to patch on the spot, and all kinds of risha marks all over, and little scrapes here and there. I'd like the face to be uniform, smooth, and all the same color. I'm thinking of sanding the face down and applying something to smooth it out but have no idea what. I can't replace the whole wood face and have very little extra money right now. What would you do to hide these cosmetic imperfections?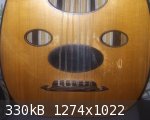 ---
bulerias1981

-

8-30-2018 at 07:51 PM



Unfortunately there's not a lot you can do about that. Fortunately it doesn't seem to be causing a great deal of trouble. Watch for the appearance of cracks. It seems you're free of that, according to the photo.
---
Chris-Stephens

-

8-31-2018 at 09:00 PM



Thanks for chiming in, John. I've watched a lot of your videos and enjoy your content. There is a small crack but its not bad. Id really like to clean up the face, its so ugly and im often showing it off and people are looking up close and i'm embarrased! what would happen if I sanded it down a lot and made it all the ligher color underneath?
---
Dr. Oud

-

9-1-2018 at 03:11 PM



Please do not sand the face. This will compromise the sound as well as structural integrity of the soundboard. Live with the dents and scratched and if cracks appear or you hear buzzing or rattles, best to use hide glue or a good titebond glue for wood. Rub it in the crack and wipe off the excess with a damp cloth before it cures. If the face has a finish and the scratches are just in the finish you can touch it up once you find out what it is. http://frets.com/FretsPages/Luthier/Technique/Finish/AcetoneFinishT...
---
Chris-Stephens

-

9-20-2018 at 05:58 PM



Well I did it and am very happy with the result! I've experienced no negative consequences from doing this, only restored its former beauty. i'll be taking much better care of it now

https://i.imgur.com/tKXlqzQ.jpg
---
Omar Al-Mufti

-

9-25-2018 at 03:24 AM



I would apply a couple of shellac passes, the scratched areas, once covered with a little shellac, will look darker.
I usually apply shellac myself (French polish technique) and rub the end result with 000 steel wool.
DO NOT EVER SAND DOWN WOOD. Whatever you sand will not come back. Better raise the coating layer as I explained above and blur it with steel wool. I did that many times with excellent results and no negative impact on the sound and instrument structural integrity.
Cheers,
Omar
---