Dr. Oud

-

10-14-2019 at 08:20 AM



The story: in the early '70's I was hanging out at the Alladin & Casbah Arab nightclubs in San Francisco, playing with Mary Ellen, studying with Hamza and making ouds. One night at the club a swarthy Arab came up to me and asked me "You want oud?" I said "ya sure, you becha", so we went across the street, down into a dark basement where he opens the door while I have my hand on my swiss army knife. Sitting on a pile of rugs and whatnot was this old oud. He says "$100", I say "$50", we settle for $75. When I got back into the light I saw what a wreck it was. The face had been sanded all the way through below the strings and painted with "Allah Akbar" in gold. It was otherwise abused but fairly complete. When I got it on the bench I discovered it had been assembled with resorcinol glue, used on boats. This glue is like concrete when it sets and the only way to get it apart is to sacrifice the wood around it. Since the face was gone anyway I proceeded with abandon to rip off the soundboard in pieces. Then I noticed the label had only remnants, the back had several holes and pegs were missing of course. oh well. I packed it up and schlepped it around for the next 45 years. Lately I looked more closely and recognized "Georg Hanna"" on the top corner of the label. I printed a copy of a 1956 George Hanna Nahhat label, not the original, but is it the correct label. By now I had about 14 Nahhat restorations under my belt and felt ready to restore this ol' coger. I had made tracings of 14 Nahhats over the years and it fit perfectly on the 1957 model. Also I used to have a '57 Chevy pickup hot rod, so I have extensive experience with things from 1957.I have some European spruce That is 50 years old for the soundboard. I will use some 100 year old piano brace wood for braces. I found a set of pegs that fit, and had the original eyun. So here's what I've got to start. Not for sale at this time.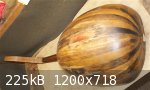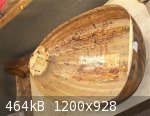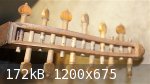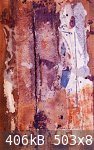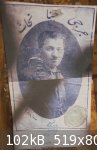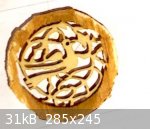 ---
Mike

-

10-15-2019 at 08:12 AM



Wow...what a story Doc! Can't wait to see your progress on this restore.
G'luck mate!
---
Update
Dr. Oud

-

10-20-2019 at 08:18 PM



I cleaned the back with acetone and added some seam reinforcement inside. The traditional reinforcement is wood dust/glue mix, but I want more strength so I got some saw tailings from the local lumber yard. This has random strands of wood, and should be stronger mixed with hide glue of course. As hide glue cures it shrinks, further strengthening the reinforcement.

I printed to scale a Shams from a '56 George Hanna Nahhat and will add a bone medallion at the center. I laminated 5 layers of rosewood veneer for the base.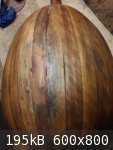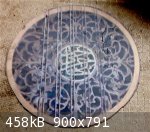 ---
Dr. Oud

-

10-23-2019 at 06:28 PM



I trimmed down the top ribs to accept the face, removed the neck and cleaned it up. Here;s the brace layout transferred to a stick that will be used to locate the braces in the body.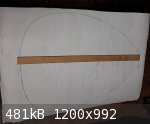 ---
Dr. Oud

-

10-25-2019 at 05:45 PM



I joined the face and trimmed the bowel, removed and cleaned the neck. The face is German spruce I bought from Vitali violin supply back in 1968, so it's aged over 50 years as well as the of finest quality, typically 18 lines/inch, consistant across the entire width. The neck and fingerboard are one piece rosewood I sanded the 3rd & 4th string grooves out, we'll see if there is enough for the fingerboard, no worries, I can always add another on top.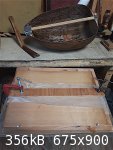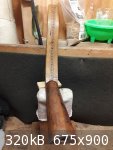 ---