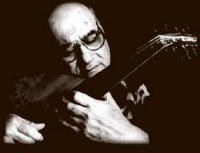 From the liner notes to Luth Classique, 'Ud Iraq, Munir Bachir, Arabesques #1 of 10, EMI Pathe Marconi 2 C 066-95 157, released 1974, recorded in Beirut in September 1972, and in Baghdad in April 1973 by Dr. Jean-Claude Chabrier, who also wrote the texts and illustrated the maqamat for this series.
Munir Bachir was born in 1930 in Mosul, Iraq to a Syrian-Iraqi family that had been involved in music for many generations. His father, 'Abd al-Aziz Bachir, was a reknowned and cultivated oud musician and vocalist. Munir was exposed to and absorbed music from the Syrian, Byzantine, Kurdish, Persian, Turcic, and Abbasid traditions. At the young age of five years, Munir took up cello, also the oud, and eventually entered the Institute of Music of Baghdad, which was founded by the grand theoretician of Oriental music in the 20th century, Sharif Muhyi ad-Din Haydar Targan (1892-1967, and the Institute was open from 1934 to 1948). He soon obtained his diploma, and became preoccupied with safeguarding the Iraqi musical tradition. He carried out various important functions for radio, and became a professor himself at the Institut des Beaux-Arts of Baghdad. In 1953, he traveled to Beirut and accompanied the famous singer Fayrouz with her ensemble, and in Istanbul gave his first public recital. In 1954, he debuted on Iraqi television. In 1956, he worked for the Institut de Musique of Baghdad. In 1957, he traveled to London, Paris, and Vienna, and in 1960 he left Iraq. He gave recitals in Berlin, Prague, Belgrade, Sofia, Riga, and Moscow. He established residence in Budapest, and there he met Zoltan Kodaly and prepared for a doctorate in music. In 1967, while living in Beirut, he became involved in teaching activities aimed at reviving Arab musical traditions, to counter the lassitude of contemporary performers and to prevent this music from degenerating. Thereafter he refused to perform as a supporter for singers, and prefered to perform his music as a soloist. Through the efforts of the Oriental musiologist Simon Jargy, Munir Bachir was persuaded to come to Geneva in 1971 to perform, also at the Palace of Versailles, the O.R.T.F. in Paris, the Holstebow festival in Denmark, and several other important recitals. In 1973, he performed in Sweden, Iraq, Canada, the United States, and Germany. At the end of 1973, he returned to Iraq and was named to the artistic council for the Minister of Information to revive the practice of traditional music. His life and work became of fundamental importance to the evolution of instrumental Arabic music and its rehabilitation. He continued to record frequently, and even made a recording with his son Omar Bachir. He died in 1997.
Munir Bachir here performs on an oud constructed by Muhammad Fadhil. It bears six courses, and instead of the usual arrangement, the single base string is in the highest position. It is tuned Do3-Re3-Sol3-Do4-Fa4-Fa2. The three soundholes of this oud are in elliptical outline, and the strings pass over the bridge and are tied to the heel. Like other students of Sharif Muhyi-Ad-Din Haydar Targan, Munir does not always use a plectrum, and often uses all four fingers of his right hand while playing.
The first recording, Meditations sur le maqam Chedd-Araban (22:30) is based upon a Turco-Arab maqam constituted of Hijaz-Hijaz. In the course of this composition he modulates through Hijaz-Kar-Kurdi, Rast on Fa, Nahawand on Fa, and Bayati on Do, with occasional returns to different themes in his unique style.
In the second recording, Meditations sur des Nagham-s Traditionnels d'Iraq 22:00 (Meditations upon traditional songs of Iraq), he develops a half-dozen improvisations. The first is Panjukah (Rast and Rast-Nahawand), then Mansuri & Na'il (the lower tetrachord of which represents Saba), then Awchar (Rast and Sikah), Mukhalef & Awj (Sikah-Hijaz-Rast), Dacht (Bayati and Busalik), and finally Lami (Kurdi-Kurdi).